The Rookie Awards is our annual marquee contest for aspiring creatives in games, animation, visual effects, immersive media, motion graphics, and 3d visualisation.
It's important to get your students creating portfolios ahead of the Awards (see step 1!) so that they are familiar with our page builder when creating an entry for the Rookie Awards.
Contest Site
Rookie Awards can be found here: https://therookies.co/rookieawards
Social Media & Hashtags
Facebook: TheRookiesCo‌‌ Twitter: TheRookiesCo‌‌ Instagram: therookiesco‌‌ YouTube: therookiesco‌‌ LinkedIn: therookiesco
#rookieawards2023‌ is the official hashtag for the Rookie Awards 2023. To help us track engagement, please remember to include this in any posts or announcements.‌
Posters
You can download official posters from here. Put them up around your school to make sure everyone hears about it!
Key Dates
For each social media announcement we make there is official collateral you can use when sharing key dates with your students. You can download the images from here.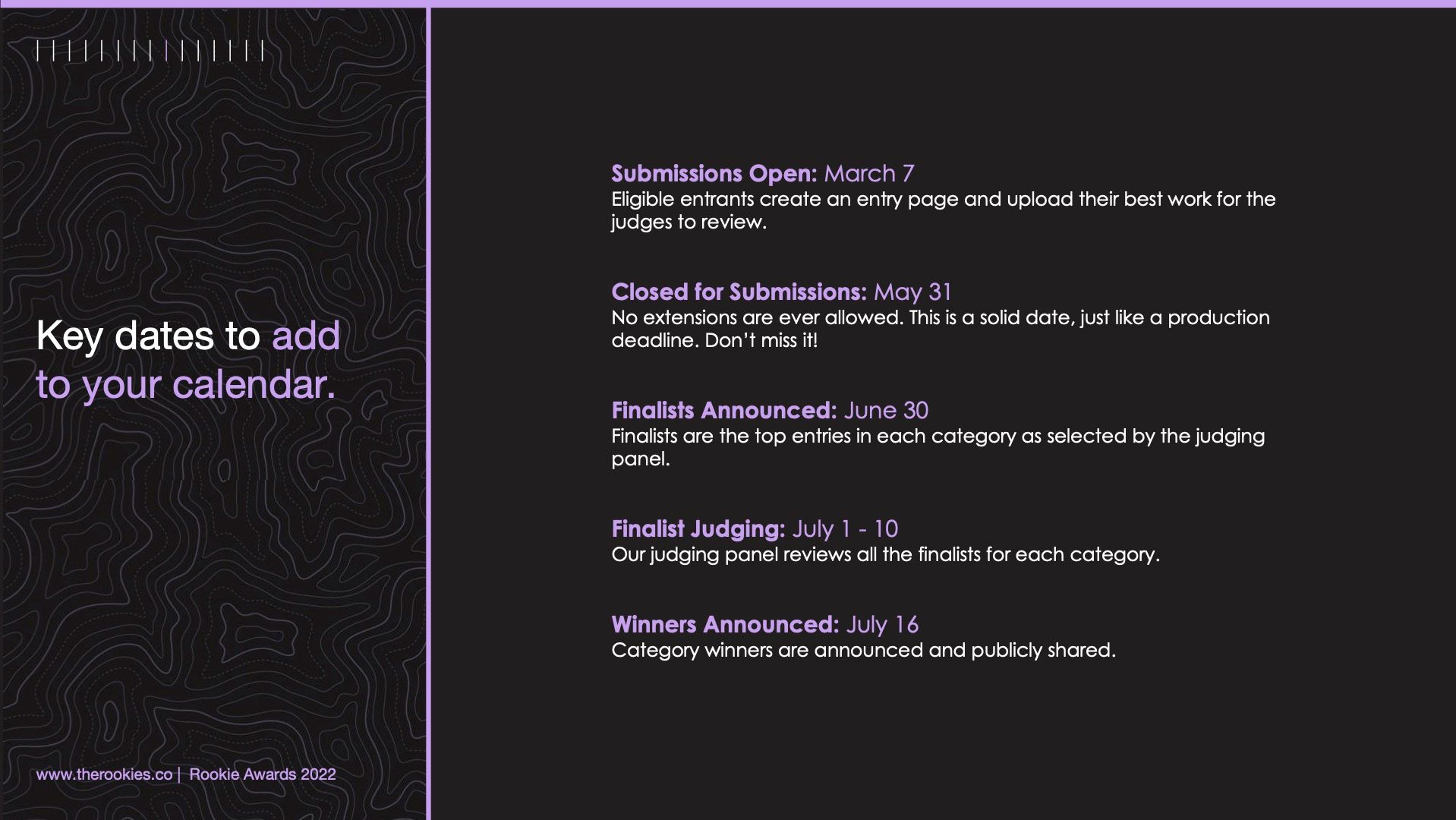 Tip: Please make sure to use the official hashtag #rookieawards2023 with all social media posts and to tag us where appropriate. It really helps us reply to comments and build engagement for everyone involved.
The Rules
Sometimes rules suck, but in this case, they may just get your students the job of their dreams! Read the rules and make sure students are eligible to enter the Awards, and that they are eligible for the career opportunities being offered. For example, did you know that recent graduates are still eligible to enter if they have graduated within 12 months of March 7th, 2023?? Read the rules!!
Entering the Awards
Everything your students need to know about creating an entry can be found in this handy playlist on our YouTube channel.
How to create a winning entry
Rankings really do come down to how many students are winners, runner-ups, finalists, and highly commended. These are the small bonus points that really shake things up each year. We have found that there isn't any correlation between a higher number of students entering, and ranking higher overall, it is about the quality of the entry.
The most basic brief is to "show us what you are going to show a recruiter". This means we want entrants to create an entry page with ALL their best work suitable for the category they are entering into.
Entrants are getting really creative and using sub-headings to split out their diverse projects, and are showing lots of great breakdowns, and supporting information. Here is a great example.
Consider these two entries vying for finalist nomination: Both entrants have an insane character project of mind-blowing proportions, but...
Entrant A has no additional examples of work.
Entrant B includes 1 x prop project, 1 x environment project, and a few good supporting drawings or similar work.
Entrant B will always get a better score from the judges and have a better chance of getting nominated as a finalist, or even winner.
Another good tip is that some students should actually enter 2 categories. Take for example a student that has some cool Gaming style projects, and then some cool stylised characters that would work for a 3D Animated Feature. They should enter Game Development and also 3D Animation, making sure they build 2 x different entry pages that are adapted to the different industries.