Some of our Contest allow for team entries. We call these "Collaborators". To add them to a contest entry, please follow these steps.
During Step 2 of your Contest Entry there are options to add a cover image, title, description, tags... and collaborators.

Located on the right hand side of this page you will see the following input field.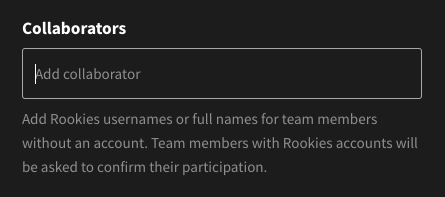 3. To add a collaborator simple start typing the name of the person.
If they are an existing member, their name will appear in the field and you can select it.

If they are not a member, you can just add their name as plain text. This will not connect anything to your page.
Accepting the Request
When you add a collaborator to a project, the member will be sent a confirmation request to Approve the Request.

They will receive this via email and it will also appear in their activity stream.

Once they accept the invite, their name will appear on the entry page.

Note: The entry will now also appear on the Collaborators profile page.